Journal of a Motorhome Novice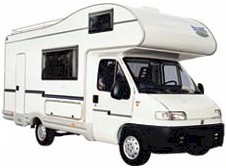 This is the motorhome that Rich bought......or more precisely, our family - Rich (that's me), Deb, Toby (age 7) and Jemima (age 5). We've finally decided to upgrade from canvas to something more comfortable. Having never seen inside a motorhome, we called up Talking Pages whilst heading home from camping in Berwick upon Tweed, to North Wales in order to find a motorhome dealer within a few miles of the M6. We ended up in Preston at Marquis Motorhomes, and quite fancied the first 'van we looked at - until we saw the price tag of £46,000! From that point on, we decided that we would love to give this motor touring lark a try, but not really believing that we could manage this practically - i.e. financing the vehicle, secure storage, insurance, whether the amount of use could justify the cost etc.
Well, here we are, a couple of months on. We decided on a new vehicle as it was proving difficult to find the right secondhand 'van for us. It seems most vehicles are designed for two people, rather than a family of four, understandable as I imagine the bulk of the market is from more mature folk, or those without children purely due to the economics of running a motorhome.
The van we settled on was a McLouis 432. We originally saw a 410 advertised at around 20k, which seemed excellent value for money but didn't have an oven. We didn't really want to pay a lot more for the 432 just for an oven, but on seeing the vehicle, it was two feet longer, and a better spec all round. So that was that - we put a deposit down there and then!
Expecting to collect said beast, McLouis 432, from dealer tomorrow. Unfortunately, it seems that the wrong bike rack has been supplied and thus cannot be fitted! The correct one will need to be obtained and fitted later - bit of a pain when this entails a 200 mile round trip. Thankfully, it's all motorway bar about fifteen miles (and that's dual carriageway).
However, there may be a more important problem that prevents us from picking up the beast - the V50 registration document has not yet arrived from the DVLC, but it has been posted so it should hopefully turn up at the dealership tomorrow morning.
We were hoping to collect this week, as the children are on their half term holiday, and both Deb and myself are also off - it seemed an ideal opportunity to try it out. Besides which, our kitchen surfaces are overflowing will all manner of equipment destined for the beast - cutlery set, non slip matting, bottle opener, hoses, kettle, pepper mill (a must!) etc; etc.
Anyway, we shall see what tomorrow brings!
The registration has been sorted out, and the van collected. There's all sorts of stuff to buy, such as hook up cable, fire blanket and extinguisher, drinking water hose, and slip strips. These are plastic strips that are placed under the wheels to stop wheelspin on wet ground - no doubt many would just use a piece of old carpet! However, these are ridged and will do the job. We don't want to end up getting pulled of our pitch by the site owner's tractor as happened at Berwick upon Tweed with our Peugeot 406.
The trip home went well, despite picking a particularly blustery day. Any high sided vehicle gets pulled this way and that in high winds, and the van was no exception! The new Fiat Ducato cab is very comfortable. The dash mounted gear shift works a treat, and can be operated whilst resting one's arm on the armrest. One thing you do notice is that you are seated well above most of the traffic, which is good. The only downside is the size of the vehicle, particularly the weight. If you're used to belting along at 80 in the outside lane, you'll need to adjust to 60 - 70 in the inside lane, along with the trucks. I did get into the high seventies, but on long hills this dropped to about 50, but I still kept slightly ahead of the trucks. Still, not bad for a 2.0 JTD engine. If you want to stay in fifth gear, and maintain 70mph, go for the 2.3 or 2.8 JTD.
On arrival at home, the van was taken over by the children! They all seemed quite excited, and the neighbours were impressed with the interior, although I had to run the gauntlet of jokes from Peter next door..."did you get a flat cap with that?". I have to admit that little street cred is accrued by motorhomers, but then I'm a 35 year old accountant, married with two kids, and what little street cred I had remaining had mostly evaporated anyway!!!
Well, everything seems to work. The blown air heating works a treat, as does the fridge. I was pleasantly surprised by the lighting. Being 12v, I expected it to be dim and useless for reading, but it's fine.
But the biggest problem? The manual for the Fiat Ducato is in Italian!!!!! Surely the importer must have realised this is a problem for non Italians, and essentially no use to man or beast. Obviously not. I will contact my nearest Fiat dealer in the morning!
Rang the local Fiat dealer this morning. Well, local being at least half an hour away. After giving them my chassis number, they were unable to provide me with an English manual - apparently, the Italian model is slightly different, which smacks of the manufacturer trying to maintain higher prices in the UK by discouraging imports. So I've ordered a manual for a similar model which I had to pay for, despite having spent a stack on the vehicle!! By this point, I was in the mood for a full and frank debate with Fiat UK and/or the importer - but I didn't get anywhere. It seems they are aware of the problem and are trying to get an English version written - I'll believe that when I see it.
Anyway, I've now managed to test everything, including setting the beds up, the oven, the grill, the fridge on 12v, on 230v and gas, the blown air heating, the water heater, the taps and shower, and the loo flush!
I must say I'm impressed. I was expecting water to trickle out of the taps/shower, but there's quite a decent flow. When the thermal blinds are down, and the curtains drawn, it's pretty cosy - especially in the bathroom - there's an air vent blowing hot air just behind the loo, so no danger of ice cold loo seats there then!
We also had our first trip out - but only to the Coliseum Warner Bros cinema with the kids. They all behaved themselves, and played "pop up pirate" on the way there, as they have the use of the large table in the back whilst belted in. The van just about fills a parking space, width ways - it's about a foot and a half wider than my 406, but about 5 foot longer so it takes two spaces up.
I found a block of four spaces so I had plenty of room, then someone tried to pinch the space I was already half in! I ask you, how can you possibly not see a 20 foot long, 10 foot high hulking great white motorhome that's right in front of you?
I suspect this diary may well dry up now, well at least until we go away properly in it, or there are more tales of woe involving dealers and the like!! I was never any good at keeping a journal when I was younger - my entries always started off on Christmas day when I would often receive a diary, but which rarely survived beyond new year!
Yet another day of torrential showers and howling gales. It's been like this all week, so not much chance of going anywhere in the beast. Going isn't a problem - it's just getting out in a howling gale that doesn't appeal.
Having tested the heater and water supply yesterday, I drained the system, which went fine but seemed to take quite a while. Eventually it all went quite, and I decided to empty the "grey water" tank, which is the waste from the sinks and shower. As it was only water, with no detergents or anything else in, I thought I'd just empty it on the drive (which I think might be illegal somewhere - is it the UK?). Having called Deb over to show her how to empty it (planning ahead so I can get out of doing it in the future), I opened the tank and was promptly engulfed by a flood a water washing over my slippers - OK, I should have had my shoes on outside! The drain opening is quite large, as is the flow!
Also took a trip to Asda - the excitement never stops! Jemima (aged 5) and I stocked up with various provisions to keep in the van, so we just emptied the trolley into the cupboards in the car park. We want to keep it stocked up so that I can take the van out of storage on the way home from work on a Friday evening, pick up Deb and the kids and just go. I can't stand packing. So the van is also loaded up with folding tables and chairs, windbreaks and BBQs, sun loungers etc; though it did feel a little strange to be packing all the summer gear into the van in the middle of an October gale.
Having toyed with the idea of spending the night at a local camp site, the Plassey, near Wrexham, which has an indoor pool, we decided against it as the weather is so foul. I guess we'll probably just take day trips here and there until late spring, then start using it properly.
Having drained the water tanks yesterday, we decided to go out in the van.....which meant refilling the tank again! Well, just enough water for drinks, washing up and the loo.
With storms forecast for Sunday, we opted to put the van into storage today rather than risk driving it in high winds. The facility at our storage site is fine - we've taken an indoor space inside an old aircraft hangar. They just ask you to remove the gas canisters for safety reasons.
Pining for my van!
The drive seems strangely spacious........where's my van? Oh well, we'll get it out again next weekend (cue rain, storms, etc.).
Well, I finally fitted the fire extinguisher- it's a challenge to find a surface that's suitable as the interior walls are quite thin, in order to save weight. I've also fitted a velcro strip on the inside of the gas locker door in order to hold the regulator spanner. Whilst butane (blue canisters) is fine in summer, once the temperature falls, propane (red canisters) is the order of the day. As propane regulators are fixed with a spanner, (as opposed to snap-on butane), it helps to have one to hand in the locker itself otherwise you find yourself going in and out of the van every time it goes into storage, in order to remove the gas.
Today, Toby and I took the van up to somewhere called "camperlands" just off the M56 on the outskirts of Manchester - this is the place for all things Fiamma!! Take a look at www.camperlands.co.uk. The staff were very helpful in demonstrating and helping me select one of the Fiamma F45 awnings - this is the type that's fixed to the side of the van and you wind out as required. The prices are good too it's a 3.5m awning in length, that rolls out to 2.5m with the support struts automatically winding out to support the fabric. It's then just a question of dropping the legs down, which are housed in the front of the awning. It all takes about 30 seconds!
You can get side and front panels to make an all round enclosure, but obviously once it's up, you ain't going anywhere without taking it all down again. So we've decided to get a stand alone motorhome awning as well, for whenever we stay more than a single night at a particular site. However, as it's the end of the season, stocks are low and I couldn't get one locally. The awning is basically a mini frame tent designed to attach to the side of the van, but which can be left on site full of tables, chairs, bikes etc. and also to mark your pitch to stop someone else inadvertently taking your pitch whilst you're out for the day! The problem for me is that most of these things are rather unfashionable - more BHS than Habitat, if you get my drift. Still, can't be helped I guess. The fabric also seems to be made of heavy material whereas nylon would be much lighter - if it's good enough for tents, it's good enough for awnings? Anyway, saw one of these at £365 at a well known dealership. Then saw the same thing on the net at £320 at a place in Aberdeenshire, Turriff Caravan and Camping, www.turriff-caravan-camping.co.uk and they offered carriage at £10 rather than the usual £25 (it weighs 25 kilos!). Guess they're keen to clear stock before next year's models come in. I used to wonder what the internet was for, when I first had access through my employment in about 1995 - back then, it was all IT sites and kids messing about, with not so much e-commerce. It's really useful now and we buy all sorts of things from all over the place.
We've also added the bike rack too. It's a Fiamma Pro C for four bikes - I'm impressed with the quality, but then it comes at a price.
Anyway, once the roll out awning is fitted, there's just the deadlocks and a set of speakers to add. Those travelling in the back can't hear the cab stereo, so additional speakers are required. Don't think the Fiat ones are up to much anyway, so I might replace those as well. I think this about exhausts the budget - we must have spent about £1000 on add-ons so I'm glad we didn't blow the whole budget on the van!
The stand alone awning arrived today. It consists of two rather large bags and weighs 25k. They seem to have sought out the heaviest materials available - steel anodised poles which are helpfully strung together with springs so no confusion over which pole goes where, and heavy PVC for the fabric. The poles themselves are packaged in a stinking hessian sack which was immediately despatched to the garage. I guess it's well built and will last many years, but what's wrong with fibreglass poles and nylon fabric? Still, it'll be quick to erect - I hope! Weather permitting, I'll try it out at the weekend - as it's freestanding, it'll also lean against the house so might be useful for BBQ parties etc; when the weather's a bit iffy.
I'll have to figure out how to attach it to the van, but there's plenty of stuff in MMM about other reader's hints and tips. My initial thought is that I can't be bothered fitting the awning seamlessly to the van if we're moving it twice a day - when we camped, we'd usually go out sightseeing in the day, returning for late afternoon to let the kids play at the site, then going out again early evening for a drive/stroll/meal but this was mainly to keep the kids occupied and tire them out - activities are a bit limited after dark in a tent. I'll probably just park next to it but we'll wait and see - probably depends on the weather.
Erected the stand alone awning - quite easy and quick, but the "canvas" is quite heavy.
Tuesday 31st December 2002 - written by Mrs S
Have finally retrieved van from storage for a few outings over the holiday period.
Today we all went up to Conwy Castle which was lovely if somewhat cold. We have joined CADW which means we get in the castle for free - ever get the feeling we may well be visiting more than one this year (or next actually)!! The advantage of joining CADW is that you also get to get into all English Herigate and Scottish Heritage sites for half price during the first year of membership and all sites are free after the first year. A great plus point to this is that CADW is the cheapest group to join so we are bound to recoup our money!
It is lovely and warm in the van and we did see a few others on our travels. Had some lunch in it and I am getting really good at making cups of tea! There is definitely an art to manoeuvering four people around inside but we are getting there! We are starting to make the van more like ours (ie it's a mess but I am sure you know what I mean!).
The thing which has amazed me more than anything is how travel sick you feel - so Rich has bought us all these sea band things which seem to work for me or maybe this is all psychosematic! Toby doesn't feel sick in the van but Jemima is dreadful so she wears them all the time when we are on the move! Rich said that he felt particularly sick the other day, but then he did have a hangover! [Ed's note: 24/02/03 The travel sickness seems to have been temporary - just a question of getting used to the greater movement compared to the car]
We haven't slept in it yet because I can't see how we are going to entertain the kids from 4pm (dark) in it when there is no TV etc. Yeah, I know that sounds pathetic and when we were younger we only needed a book and a pack of cards, but is different now and the kids aren't quite old enough to read novels yet!!!
It is fine in the summer when it is light and they do spend all their time outside in the play area or we go out in the open but in the winter you either end up stuck inside with games (which I personally don't think you can entertain the kids with til bedtime - ie in December about 5 or more hours!!) or you go out to a ball pit and you can do that at home! Or, and this will probably happen if we do go again in the winter you get on a site, get a telly and a PS2 and then you can watch DVDs as well! I am still looking at the cheap laptop idea so we can update this as we go - I cannot imagine doing wild camping with the kids - the whole point I think is to go to sites where there are loads of kids so they can make friends and have (hopefully) safe fun and we can have a bit of peace! The thought of not camping on a site seems slightly weird but maybe you get into that when you get old!
Anyway Conwy Castle is great because there is plenty to do for the kids and the town is picturesque. The kids wanted lolly ices which we managed to find in a newsagents! He probably thought we were mad - eating ice cream whilst wrapped up in coats, scarves and gloves! We have got some photos so maybe Mr S will get them on here anon. Cont'd..
New Year started well with lots of ice and a light dusting of snow!
Today we went to Alyn Waters Country Park in Gwersyllt near Wrexham. Haven't been there before and I must admit I was impressed - there is a cycle path and plenty of walks. Along the cycle path is a sculpture trail which looks great. Had lunch here in the van and then went round twice with the kids on their bikes - they like to whizz about. Toby had a new bike for Christmas so it was good for him to become familiar with the gears etc. We were going to have a game of Cluedo in the van but there simply wasn't time so we went home - upon arrival I realised I had lost a glove - two days later we went back and there it was! Some kind soul had put it on a tree branch for me! Cheers.
Van is still lovely and warm, very snug and cosy - it is so nice not to be cramped and have a cup of tea whenever you like rather than being stuck in the car with a flask! (How old am I?!!). Cont'd...
Weather still crisp and icing like!
Went to Thurstaston today to look at the marshes and the birds! Plenty of parking spaces - it was freezing but the kids enjoyed going on the beach and trying to see where we live! The visitor centre was shut - as it was yesterday which is a shame because there were some people about to be honest! To get to the beach you have to climb down quite a few steps which is fine - tests kids stamina going back up! The kids got absolutely covered in mud (for about the 300th time this holiday!) so after we had been to the beach we went to Parkgate for a nice ice cream and then we decided to see if we could go somewhere to buy them some waterproof trousers. Went to Cheshire Oaks and bought some and then came home. Rich (this is amazing!) cleaned the van all through - if only this was the house - as he is taking it back tomorrow.
All the other kids we live near want a van too - some parents think it's great, others are not over keen... Cont'd..
Rich has just bought a digital camera so when we next have van out there will probably be some images on here!! How exciting.....
Just took the van out today in order to have the TV turntable fitted. The dealer threw it in, back in October, but we just hadn't got around to sorting it out. Looks fine, but the TV locker probably won't take too much weight - especially if we used the extension facility which allows the arm to extend out of the locker.
We've found a way round this though, with a super lightweight TV that also runs off internal rechargeable batteries. It also plays DVDs, can act as a display unit for a games console, such as Playstation, and can also download and edit camcorder and digital camera footage. Yes, we've splashed out on a laptop thanks to one of these interest free credit card offers. OK, it cost £750, but have you seen the price of these 10" sets in the dealerships? Saw one today for £250, and I think the DVD player was about £200 too - so in that light, you get a lot more flexibility for your extra money.
We've also networked it to our main, rather elderly, PC with a wireless network, and shared the internet connection. This means that while I'm typing this on the laptop in the kitchen, Deb is typing an email on the PC. In a moment, I'll hit the "publish" key, and upload it to the website. Cool or what?
As for watching TV on the laptop, we'll just make do with a crummy old TV top aerial for now. Having seen the price of some of these aerials, it might be worth going the satellite route. That's no doubt more expensive, but analogue won't be around for ever. Perhaps one to think of in the longer term.
We are now at The Plassey Leisure Park which is about two and a half miles south of Wrexham. Follow the link for more-The Plassey Rich put up the stand alone awning which requires more effort than the roll out awning obviously, and aggravated his dodgy back! An old snowboarding injury, which sounds impressive until you realise he did this on his first and last go! However, I am sure we will get into it as they say. Another option is to use the roll out awning with numerous windbreaks I suppose and we will probably do that when the weather improves. Having said that the weather has been amazing for early April - there are people here in shorts and not a lot else - crazy really - but it is very warm. Rich was a bit upset he had forgotten his sandals but then again you don't usually wear sandals in early spring!
Sleeping was great - I thought there may have been arguments about who slept where but in the end the kids decided it was too risky sleeping up top so Toby slept on the table bed arrangement and Mime slept on the single. Rich and I therefore slept upstairs which was fine. It was cold at night - we didn't actually get out in the awning after all the trouble of erecting it but it was cold and we had forgotten the rugby ball adaptor thing that lets you run a normal plug off the electric hook up as I had visions of plugging in the fan heater! I didn't feel claustrophobic at all upstairs but we were in sleeping bags which made it still feel like you were in a tent. I am sure it would have been a lot colder had you been in a duvet - I noticed minimum overnight temperatures were 4C - pretty cold - and yes there are quite a few hardy individuals here in tents!! Didn't wake up until 8.30 this morning which was nice and by the time we had had brekkie and got washed it was getting on for 10! Then we pottered about a bit - went for a walk around the site and saw this massive motorhome which was more like a coach - very comfy I am sure. I have found the most comfortable seats in our van are the front ones by far. The bed on top is OK but I personally found it harder than an airbed but there you go - having said that, our bed at home is not soft so I don't know what you would think if you had a soft mattress!
I had promised the kids they could go swimming and as the pool is shut here currently we decided to go to Waterworld in Wrexham - by the time we got there it was after 1pm and by the time we had had something to eat after swimming it was gone 3pm! Got back and watched the Grand National outside on this laptop - Rich has decided the cheap aerial is no good and satellite won't be worth it so we are just going to buy some sort of exterior aerial. Next weekend we are hoping to go to the European and US motorhome show in The Three Counties Showground in Worcestershire - maybe somebody there will be able to assist us in our aerial quest!
Living in the van is proving OK - we went to B&Q in Wrexham before swimming to buy some wood for additional shelving in thewardrobe - everything fits in here but it's just all on top of one another! Kind of - "Don't open that cupboard things fall out of it!" Being able to watch DVDs is good on the laptop - helps everyone to wind down!
Went to Porthmadog and Black Rock beach today. We live about 70 miles away but we didn't leave until 11am and because of the traffic we didn't get there until about 2.15!! We have purchased a CADAC gas bbq with a grill top (you can also get a skottel top) which have been all the rage in South Africa for years apparently. When we got to the beach we had a bbq and then spent ages trying to pump up the inflatable boat which we managed eventually. It was a good job it was scorching hot as by the time we reached the sea with it, it must have been after 3.30! My mum and dad were there as well - they had left home early and had had breakfast in Porthmadog which meant they left pretty soon after we arrived (about 4ish). This beach is really popular with people from around here so it wasn't long before the kids had met some other kids they knew!! The beach is great because you can drive on and it is the same price - £2 - for motorhomes. There is a cafe and ice cream vans go up and down the beach - it is very popular with jet skiiers and other watersports people. The sea is flat for miles so you can go right out without fear of the little ones getting into danger.
We stayed on the beach until about 7.20 and then repaired to the campsite. During the night it was incredibly windy - we were snug in the van but others in tents were not so lucky. There were scenes of devestation the next morning and we came home soon after 11ish. We came home via the A55, something we never do normally - usually go via Bala - this took ages and was further, but at least the roads were straighter.
This is day one of our trip to North Yorkshire. We left for York or rather Sutton on the Forest and Goosewood campsite at about 10.30 arriving in the afternoon. When we arrived it was raining but after about 15 mins it cleared up and became really warm. We have found out about height barriers in York etc so will be seeing what happens tomorrow. On the way we met a family who were going to Flamingo Land in Kirby Misperton. They were actually staying on the site which I hadn't realised you could do, apparently this gives you a reduced entry to the park which is useful to know. Didn't do much today - let the kids explore the park while we set up the roll out awning - the stand alone awning is to be consigned to the free paper for sale as it is too much like hard work for Rich's back - but that could just be an excuse! But he is right in that there is less bending, lifting and shifting required with the roll out one.
Went into York today using the Park and Ride. There are a number of park and ride terminii outside York - we were fortunate because only Rawcliffe Bar to the North will open the barriers for motorhomes - it actually has the bays marked as well. I was impressed with the speed and efficiency of the park and ride - we hardly had to wait at all. When we returned we were on a bendy bus - our first time on this bus - what a weird experience.
When we had been dropped off by the bus, we walked to the Jorvik Viking Centre which was probably almost the furthest point from the bus and wasn't that far - no complaining kids yet! When we saw the queue of course we were less than impressed - by now it must have been after 11 if not 11.30. We stood in the queue for probably more than 20 mins - there was this guy dressed as a Viking, Toby had his pic taken with him. There was plenty of time to go to the loo which are through a snicket off the arcade - they are sign posted (if Boots is far behind you on your left you are going the right way). Jorvik was excellent - after the tour the kids got to have a go at writing their name in Runes and also bought a coin from the Viking era which was stamped in front of them. It was £21.95 for us all to go in and as Rich and I had already been, we didn't bother with the guide book.
After that we were all hungry so we went to the Castle cafe for lunch - four drinks and something on toast came to about £14 which is OK but as it was a nice day we could have brought our own stuff but I seemed to be laden like a pack horse as it was what with wet weather gear, bottles of Oasis and jumpers!!! By now as you may have guessed it was warming up!
After lunch we went up Clifford's Tower c90 odd steps to the top - kids liked this - we are in CADW and should be able to get into Eng Heritage half price - but not apparently half price family tickets - although we have been let in before on this - everything is different depending on who you talk to. Clifford's Tower forms part of the castle and...
After that we went to the Castle museum which at c£16 for us all was a bargain and we were able to gift aid our entry fee which all helps. This museum was fine but it isn't half a traipse - don't get me wrong I love this sort of thing and so did Mime but Toby started off OK but interest soon waned and all he wanted to do was get to the condemned cell were Dick Turpin had been held, although even this didn't seem that fascinating to him!! In the courtyard though there was the opportunity to have a go at some old fashioned games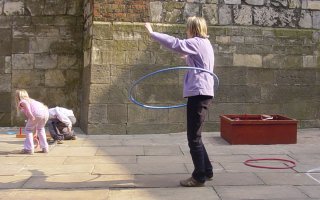 which the kids enjoyed and it took their minds off their sore feet for a while!
After that we made our way back to the bus stop via the Shambles and Minster - we didn't go in the Minster as it was 5pm by now!! After retrieving the motorhome we went to Tesco for some stuff for the bbq and then had very nice tuna steaks for supper along with some sausages for the kids as well.
---