Journal of a Motorhome Novice - Page 2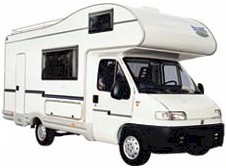 We've now put our stand alone awning up for sale. It's great, but we don't tend to stay in one place very long which means that we tend to use the roll out awning instead. We've just got the Fiamma privacy panels to go on the sides, which are great. Obviously they have to be taken down before you drive anywhere, but they're quite quick to erect and dismantle.
Our next jaunt is to the Hereford area shortly so we will try out the panels in the field, or in a field..ho! ho!. We've also ordered a gas heater from C.A.K.Tanks (see ads in MMM mag) to use in the awning as we like to sit outside whatever the weather.....particularly once the children are in bed and the dinette bed is made up. Hasn't arrived yet though. We'll also install an external gas point for the barbie and heater some time, using parts purchased from C.A.K. Tanks - it's worth sending off for their free brochure as they sell all sorts of bits and pieces for vans and boats.
Well, we've got the privacy panels set up - and they're fine. To set both side panels up fully with all pegging points takes about 25mins, and can be done by one person. No doubt we'll get better with practice! We managed to take them down in record time too - about two minutes!
I must admit to a feeling of smug satisfaction as we completed our awning whilst the caravanner opposite was still struggling with a large heap of PVC as he tried to erect his. Mind you, he didn't have to take it down again in the morning before going anywhere.
Only downside is that one of the pegging points has come unstitched - it came off in my hand even before the peg went in so the panel will need to be returned, which is a pain.
Dear diary.....I seem to have neglected you of late, it's almost twelve months since I last wrote something!! Well, we sold the van a few weeks ago, via Ebay, although it didn't reach the reserve but the top bidder still bought it for the asking price after the auction.
We joked about the buyer turning up with a carrier bag of used tenners - I needn't have worried - in the event, it turned out to be over £20,000 in used £20 notes!!! I walked from the car to the bank with extreme caution, that day!
So, you've probably seen from our revised home page (probably changed again by the time you read this), that our new van is a Roller Team Granduca 67. You just can't get these in the UK, as the seven berth family vans are not popular with the market, but that is changing. This year, McLouis and Ci are both importing new seven berth models for the first time, and Rimor have done for a while but at a price. Suffice to say that our van, at an exchange rate of about 1.50 to the euro, cost about £10,000 less than the list price for a comparable Ci model (Mizar?) but you would expect a few grand off in discount so I reckon even after two trips to Belgium, one involving four of us flying out there, we will still have saved £6k by buying in mainland Europe. OK its left hand drive, but for something I'm only driving 5k miles per annum, it's not a problem and will be purpose built for overseas jaunts.
But we didn't buy overseas to save money, just due to lack of availability.
However, the van isn't expected to be available until early June, so here we are, on a bank holiday weekend, going nowhere.....well, nowhere far anyway!!!
Friday 25th June 2004
So, here we are are, en route to Oostende! So far today, we been in the car, in a taxi, on a plane, and two trains, so it's a bit like "Planes, Trains and Automobiles". We're on our way to collect our new van as mentioned above. I'm typing this on the train as there's not much else to do.
In an hour or so, we'll arrive in Oostende, and make our way to the hotel before visiting Urbano in the morning to drive the van back. So far, we've been through four countries today - England, Wales, The Netherlands, and Belgium, then tommorrow, into France on the way back.
---