The Plassey, Wrexham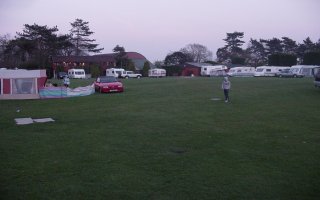 We came here last night - this was very exciting as it was our first night out in it! We decided to go somewhere relatively close to home to start with and this place seemed ideal - it has a great playground for the kids and a craft centre. There is a swimming pool but it is not open until April. The site is part of the Best of British group - this is the third of their sites we have been to and we are going to another one at York in a couple of weeks. To be honest though it doesn't really matter about the facilities when you are in your van but it is still nice to go to sites with tents and good playgrounds.
I had promised the kids they could go swimming and as the pool is shut here currently we decided to go to Waterworld in Wrexham
The kids have been at the playground for hours now - they have made new friends as always which is great - I would definitely recommend this site - there is also a badminton court - kind of outdoor, an arcade, table tennis, proper golf course, shop and a nature trail which we have yet to discover. Unfortunately the site does not allow bikes (many kids have micro scooters which I had completely not thought about - but will next time) and you can only play with soft footballs - £3.15 in the shop.
Play area - kids seemed to enjoy it. The play area has the usual swings etc on a wooden theme and there is also a small copse behind which they can't get lost in. Again it is worthwhile asking for a site by the play area - if you look at the above picture, it is on the far right.
Shop- well stocked including soft footballs. Had all sorts of food and newspapers and was open for what seemed like the whole time (no real worries if you have forgotten something - not too pricey either). Also sells ice lollies.
Facilities - excellent - had a look in the toilets very clean and tidy. I think they have had other positive reviews as well. The motorhome point is at the side of the road - it isn't exclusively for motorhomes if you see what I mean.
Overall impression - nice, tidy, clean site. Costs over £20 but worth it as it is near us. You can visit the craft centre and brewery and restaurant for free if you don't want to camp. The owners seemed very friendly.
Would we go back? - no doubt because we live so close!
---