Formby beach, Merseyside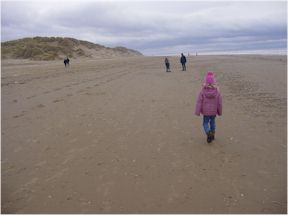 We went to Formby beach after a tip from Neill King - we had intended to visit the area as well but we ended up staying here because it was so interesting.
We travelled up the M57 and when we were nearly there we had to complete a diversion which took us through little lanes but we managed it - or should I say Rich managed it admirably! I wasn't too sure where Formby beach was so we followed the map (I navigate from the back - kids always split up) - Rich advised that it was near the sea! There is a sign in Formby and you follow this ordinary road for quite a way and it eventually turns into a beach type road and then you arrive at the car park. Maybe there was more here but we saw nothing else except for a notice board. The lack of toilets and facilities was not a problem for us but would have been had we been in the car given that we had driven for an hour!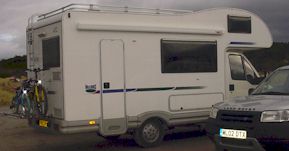 We parked by the dunes and had great fun playing hide and seek with the kids. They also went on their bikes after which we had some lunch. I warmed some half baked rolls and we had some soup - it was lovely to have warm food on what was a pretty cold day! The novelty of sitting upstairs has still not worn off for the kids and they often give impromptu performances through the curtain while we read the paper. After lunch we left the snugness of the van to venture to the beach. The beach was not deserted by any means; one person spent the entire time trying to paraglide from the dunes - never saw the finished version - perhaps he had had enough and went home!
I have never seen so many shells on a beach all in a line from where the tide had come in - cockles, curly shells and surprisingly shell shaped shells and millions of razor shells - funnily enough the razor shells were in a line nearer the sea. There were also many many starfish and some dead fish! I have never seen this phenomenon before to this extent - perhaps it always happens there or is seasonal. After the walk we returned to the van for a warm up and the children has another play in the dunes before we set off home. Everything is slower in the van probably because you can linger in comfort and not feel rushed - this is one place we will return to. We also meant to visit the squirrel reserve - we have left that for another day out.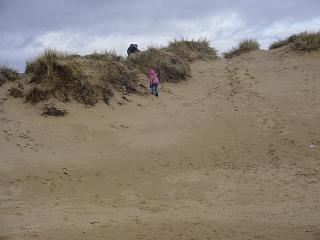 ---