Doward Park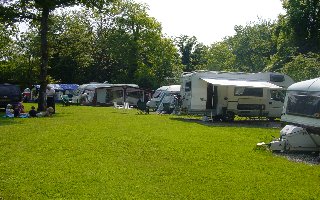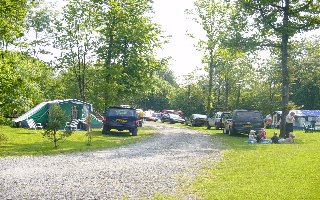 We visited Doward Park after we had been to Broad Meadow during June 2003.
Surroundings - Doward Park is in Symonds Yat West near the Forest of Dean. The site only accepts tent and smallish motorhomes. The site does not allow touring caravans but there are about half a dozen permanent pitches for tourers; one was unoccupied and we were on that! To arrive at the site you have to drive along some very narrow, steep, woody roads - and when you get there it is like being in a wood - well funnily enough that is where it is! The surroundings can only be described as idyllic - so quiet, hardly any light at night, plenty of owls and other wildlife about. Tents are scattered about all over the place - when we arrived in the middle of the afternoon, there was hardly anybody about and I had a foreboding feeling that there weren't any kids but this wasn't the case!
Play area - there isn't a conventional one but there is quite a large part of Bluebell Wood roped off for the kids. In the wood the kids made dens and the usual and they seemed to really enjoy this. There is only one way in and I felt quite comfortable leaving them in there - however they are 6 and 7, any younger and I may have felt differently.
Facilities - there is are separate toilets - three of each in the womens, Rich says two in the gents. There is a separate shower block with modern looking showers - with the two wheels to control flow and heat. The showers were quite cramped but warm enough - if not too hot! When I say quite cramped, I mean for two as Mime and I went in together (don't quite know why as we usually take it in turns - I think I had this idea that because the shower is hand held I would have to get in with her - not really the case! I have a feeling that the blocks aren't heated - but I didn't notice because it was really warm! There is also a water point, chemical disposal point, washing up area but no laundry.
Shop - the shop is in reception - it sells the basics - we bought some milk, and it also has an ice cream fridge thing (like in newsagents) which is great for the kids. The reception has loads of leaflets concerning the area and some maps of wood walks - maps hand drawn - be careful we nearly got lost!
Other stuff - the owners are so nice - they have young kids and live on the site in a static van. They only took over last year and seem really welcoming. The maps allow you to walk through the wood and take a hand ferry to one of two pubs - a must - we really enjoyed this. The website is great -it tells you how many spaces are available - you can put your own pictures on as well which is nice. This site costs £16 and I think that is Ok given the superb location. There are tons of positive reviews on ukcampsite.co.uk and rightly so! Yet another site where kids aren't allowed to ride their bikes but it is steep in parts so probably a good thing! My daughter and I left our fleeces in the shower one morning - I didn't realise until two days later when we arrived home! The owner checked and mine was still there but my daughter's had gone - however it later turned up - restoring my faith in human nature - taken accidentally by a permanent pitcher. I corresponded via EMail and sent a cheque and then the coats appeared - I am very grateful! The bird feeders weren't filled but then again they shouldn't be in June!
Would we go there again? - definitely!
---