Beeston Castle, Cheshire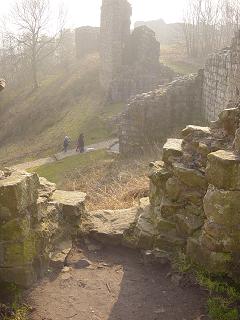 We visited Beeston Castle during the February half term. The castle is owned by English Heritage and has a shop selling a comprehensive range of souvenirs. The car park is on the other side of the road; by the time we arrived the car park was full and we had to park in the overflow car park which was grassy and also muddy. However this did not present a real problem except for the fact that we had parked on a camber which meant you felt odd every time you moved up and down the van. We had our lunch in the van and ventured out to climb up to the castle afterwards. Making tea still has not lost its appeal and being able to eat in comfort is just superb!
The castle has a great view of the Cheshire plain and Peckforton hills-it is well worth the climb when you arrive there. There are a variety of routes to the top which adds to the interest. We were very lucky because despite the fact that it was breezy at the top (hence my hat), it was sunny and there was plenty of visibility.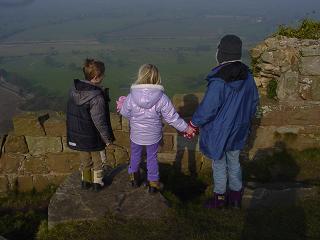 After we had climbed down again and visited the shop, we left the site and called in at the ice cream farm in Tattenhall. The lanes en route are somewhat narrow but Rich coped admirably - there is no way I would have fancied driving down there in the van (well at least I am honest!).
At the farm there was a cow which had just literally given birth - kids thought this was fascinating as they do about all things to do with bodily functions. I also overheard one bloke saying to his little daughter that "they are gypsies (or words to that effect)" and looking at me!!! Ironically he later got in this battered old transit van with his family!
The ice cream farm was also very busy given the fact it was closing within the hour, I had Christmas pudding flavour which was OK, Rich said his butterscotch ice cream was "all right" (he says this about everything which means pretty good really), Mime had mint choc chip and Toby had vanilla which they ate with gusto - this doesn't sound like a Michael Winner review does it?! There was a competition to see if you could eat eight scoops of their ice cream - trouble with that was if you couldn't, then you had to pay for the ice cream you did eat! We sat in the van and ate our ice creams before setting off home.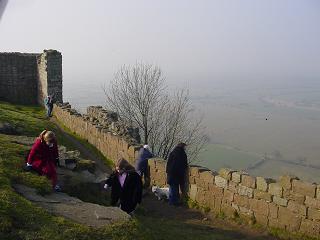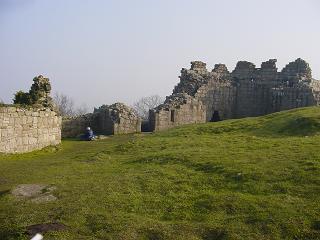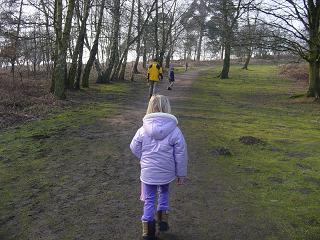 ---